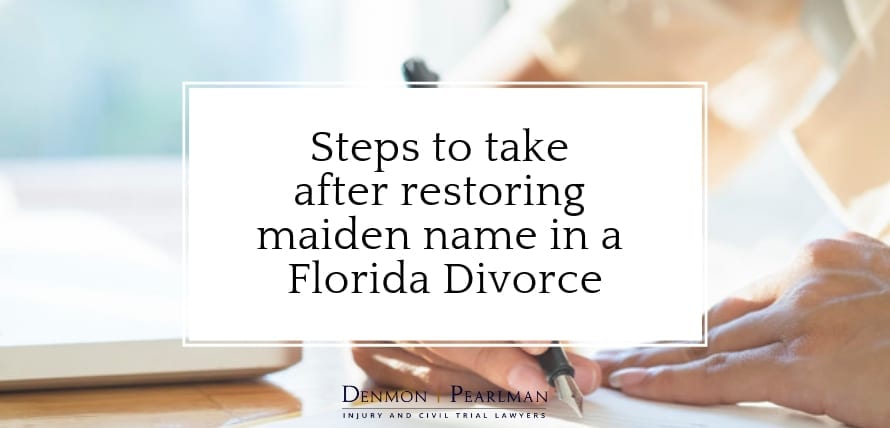 STEPS TO TAKE AFTER RESTORING MAIDEN NAME IN A FLORIDA DIVORCE
Going through a divorce is likely one of the most stressful events you will go through in your life. Even after everything is finalized and you're starting to move on, you still have to deal with restoring your maiden name, and the process can take longer than you would think. The following are steps to take to restore your maiden name and make the process a little bit easier.
Name Change Order
When you receive your divorce decree, make sure that it has an Order to legally change your name. You'll need this, along with proof of identification and proof of age to be able to legally change your name in the state of Florida. If you forgot to ask for this during the divorce proceedings, you can still have the Order changed. Contact the courthouse where you got your divorce and have them amend your divorce decree. If you can't find your divorce decree, contact your
divorce attorney
who may be able to help you locate it.
Social Security Card
As you probably remember from changing your name when you got married, your first step is changing your name with the Social Security Administration. Make sure you take a certified copy of the Name Change Order you were given from the court. Once you complete this step, you'll need to wait for your new Social Security Card to arrive in the mail to complete many of the next steps.
Other Documents And Institutions
You often don't realize how many places have your name on file until you need to make a change. Once you have changed your name with the Social Security Administration, you can begin making changes elsewhere.
Driver's License
One of the most important ones to get done quickly is your driver's license. You'll need to physically go to the DMV and bring proper identification to make this change.
Voter Registration Card
Make sure you are able to vote in the next election by changing your voter registration. It's easy to put this off until the election rolls around, but if you wait too long it could be too late, so the best course of action is to change this right away. If this is your first time registering, go through the voter registration process online or through the mail. If you need to update your name on your existing registration, you will need to provide a certified copy of the Court Order.
Post Office
You can go to your local post office to have this done. The post office will then have Record of your previous and current name so all of your mail gets to you easily. This can take 10 days to process.
Insurance
Notify all of your insurance companies: life, home, auto, health, dental, etc. You can start this process on the phone or online, and will likely need a copy of the Court Order.
Employer
Provide a copy of the Court Order to your employer. They will need to make changes to your logins, email, paychecks, and any other information with your name.
Financial Institutions
Make a list of all of your financial institutions and call, go online, or stop in their office to change your name. This could include your bank, credit card company, 401k, and IRA.
Housing
If you rent, you'll need to notify your landlord and if you own your home, you'll need to update your mortgage information. You may need to provide a copy of the Court Order.
Service Providers
This could be a long list of people to notify and may include: doctor, dentist, veterinarian, pharmacist, utilities, magazines, etc. Your list will be unique but likely will include at least those listed. Some of them may ask for a copy of the Court Order.
Miscellaneous
Some other places where you might need to change your name include your car title, library card, estate planning documents, notary public registration, charities, and copyright/patent. In addition to these, try to make a list of everywhere you have a username that includes your married name and/or any online sites that use your name. For example, you might have changed your name with your credit card company, but your username on their website might still have your married name until you log into your account and change it. You also may need to change your email address if your address uses your married name.
For Business Owners
In the state of Florida, if you own a business, you will need to update your name with the secretary of state. You can do this right away so that all your changes are done and over with, or you can wait until you file your annual report. It doesn't matter how long you were married for or how amicable your divorce is, it is a very stressful time in your life. Making sure you change your name everywhere it needs to be changed can help you move on and finalize this period in your life.