These Tips And Tools Will Help You Prepare To Get The Most Out Of Your Initial Consultation.
When you're getting divorced, the first consultation with your lawyer will allow him or her to gather the necessary information in order to get started with your case. To ensure that your meeting is as productive as possible, here are some tips and tools that will help you prepare ahead of time to get the most out of your initial consultation. Not to mention to get a head start on everything to come when you have the divorce consultation checklist. We want you to get the most out of your initial divorce consultation so we've prepared this divorce checklist for your information.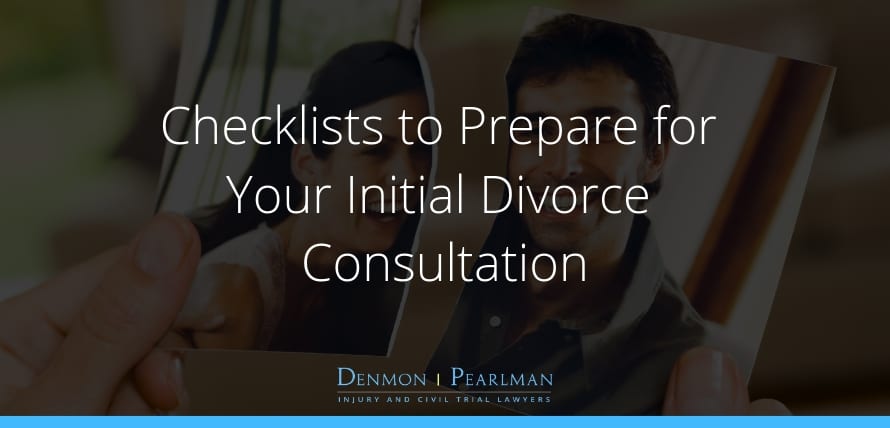 Fill Out Client Intake Form
During the first consultation, your attorney will ask questions about your life. Before you meet with our team for the first time, feel free to print and fill out our confidential client interview sheet, which covers your contact information, the purpose of the consult, and other information for our records. Getting the basic materials out of the way beforehand will allow more time to cover more in-depth details of your case.
Gather Relevant Documents
In almost all cases, you are gathering at least some financial documents for your divorce lawyer to begin the divorce process. It makes sense considering child custody is the only divorce related issue to solve that is not in part related to "the numbers".
If possible, gather up a few years of tax returns, pay stubs, and information on the big financial assets (and debts). This allows the divorce attorney you are consulting with to get a little more detailed with the information. It's one less thing you will have to do later.
Like to really get started on things early? For a full list of mandatory disclosure that you'll have to produce within the first six weeks of starting the process see below.
Review The Outline Of A Typical Divorce Consultation
We do this all day every day. But we still find it helpful to use a divorce checklist to make sure we address everything in our consultation. (If Doctors and pilots can do it, then we sure can too.)
We encourage you to go through the divorce checklist below prior to sitting down with us. This way you will know exactly where we are going during our planning session.
Think About The Right Parenting Plan For You
If Child Custody is an Issue in your case then take a few minutes reading some of our custody guides. This will help you get a feel for what you can do to protect your children in your divorce while also looking for a resolution that will put you in a better place.
Getting Ready For The Alimony Conversation
Before negotiating or going to court for an alimony agreement, we'll need to analyze your specific situation. Standard of living, current income, education, and even the physical and emotional health of you and your spouse could come into play when determining the terms of alimony. Also feel free to check out our Definitive Guide on Florida Alimony.
Brainstorm Questions For Your Divorce Lawyer
There is so much to know when you're getting divorced, so it's natural to have many questions ranging from legal procedures to financial details to custody and more. Don't know where to start? We've prepared a comprehensive list of questions with our divorce checklists that you may want to ask your divorce lawyer during the initial divorce consultation. If you'd like to learn about child support and how much you'd pay here's a Florida child support calculator.